Inside Accounting4Me Website

HOW TO REGISTER & WHAT YOU GET
FREE COMPANY & BUSINESS REGISTRATION
[Limited offer: Every month, the first 100 clients get to save $500+]
Are you new to the business? Forming a company? Take advantage of our FREE company registration which includes the Government's cost price of NZ $165!
Starting a business is tough, especially if you have to deal with the following on your own:
  ▢    Incorporating a company
  ▢    Reserving a company name
  ▢    Transferring reservation
  ▢    Tax registration
  ▢    Registering a director
  ▢    Registering a shareholder
And there's more to that list, which is also one of the reasons most Kiwi businesses either fail or quit within the first few months. It's just a little too much to take on "single-handedly".
This is where we come in and aid you in meeting your business goals. We, at Accounting4Me, not only offer you FREE company formation & registration but will also include the Government's fee of $165.
Further below, we will show you glimpses of what's in store for you once you register with us.
Although, if you'd like, you can skip this altogether by registering with us now, or you can talk to our accountants about anything related to business, taxes, and the laws governing them.
Keep our email ID with you in case you need it - adviser@accounting4me.co.nz - or click here to talk to us!
Already Registered?
Not a problem at all! Sign Up with us and we promise to get that money refunded to you, directly to your bank account. Basically, we'll take care of it.
How You Benefit
  ✔    Online Account Management
  ✔    Updated Company Details
  ✔    Hassle-free Registration
  ✔    Automatic Filing Of Annual Returns
  ✔    Compliant With IRD & NZ Laws
  ✔    Financial Reporting & Statements
  ✔    Manage Overseas Company
  ✔    Complete Support & Guidance
---
How To Register
Once registered by the click of a button, you will get a welcome email prompting you to "ACTIVATE MY ACCOUNT", for security purposes and avoiding spammers.
Enter your desired password in the marked fields and a referral code (if any), and you will be prompted to LOGIN.
---
What You Get
After logging in, you will be greeted with a screen displaying a Revenue Graph (actual graph is only for paid members), Personal Details, Company Details, and an option to directly Chat with our accountants (paid members only).
Details here can be edited/updated with the click of a button or link.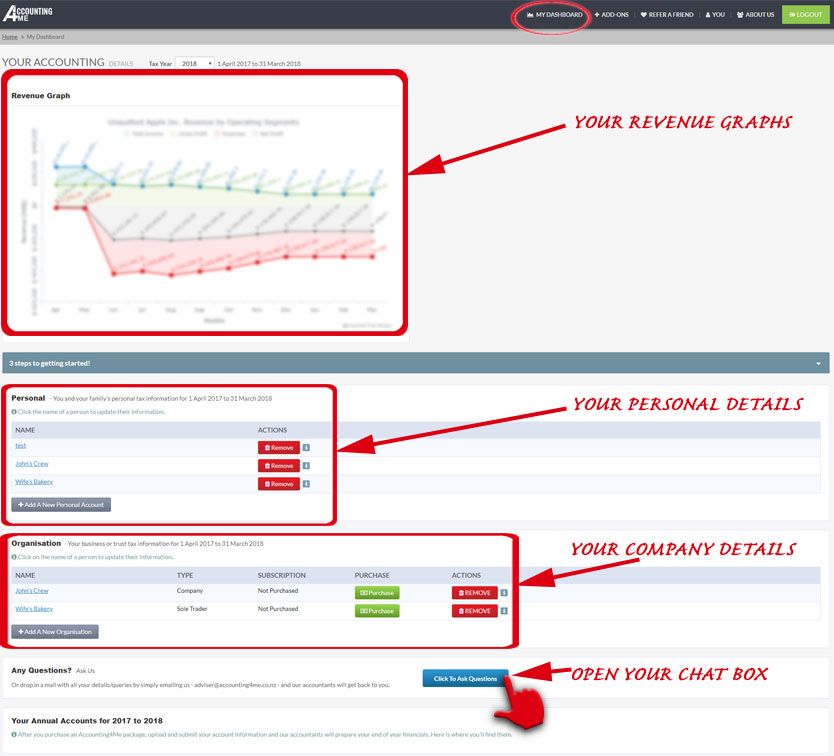 *Chat support is for paid members only.
---
Picking A Product
This is pretty much self-explanatory. Although, keep in mind, you will be charged a refundable fee of $1, for authorization purposes. This amount will be deposited back into your account within 7 days of making a purchase.
After picking either Monthly or Annual Payment Option, simply mark Radio Buttons as 'YES' in order to proceed to Billing.
---
Choosing A Service (ADD-ONS)
We cover a wide range of business topics that are sure to keep you on track and out of trouble with IRD.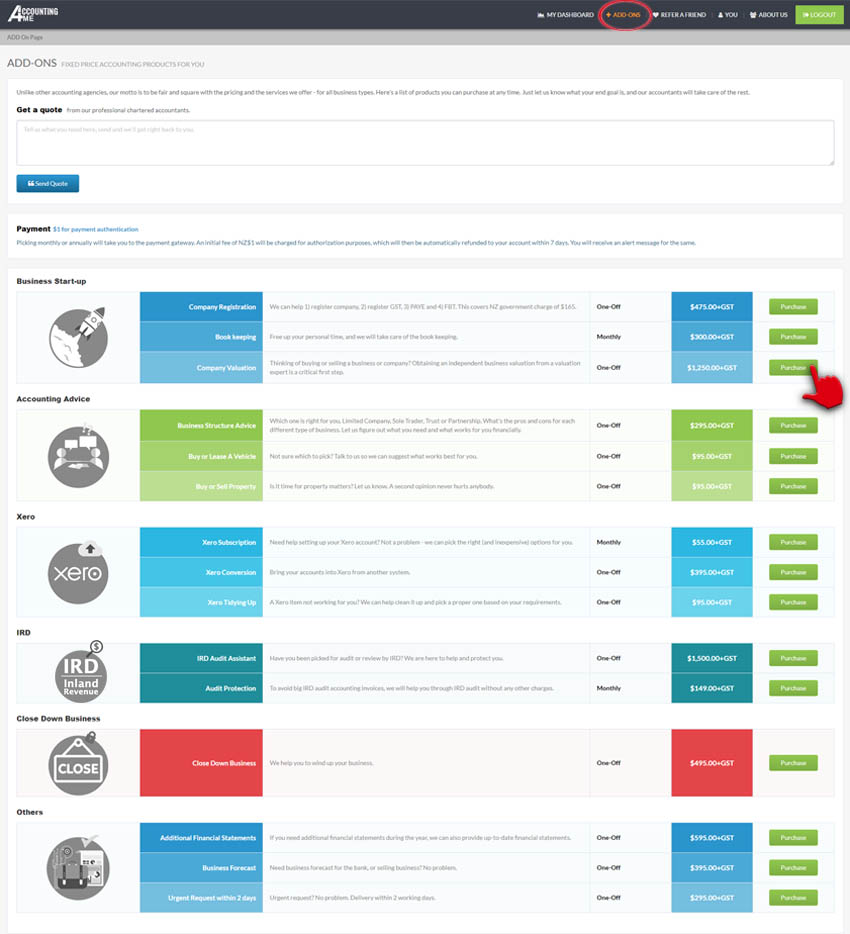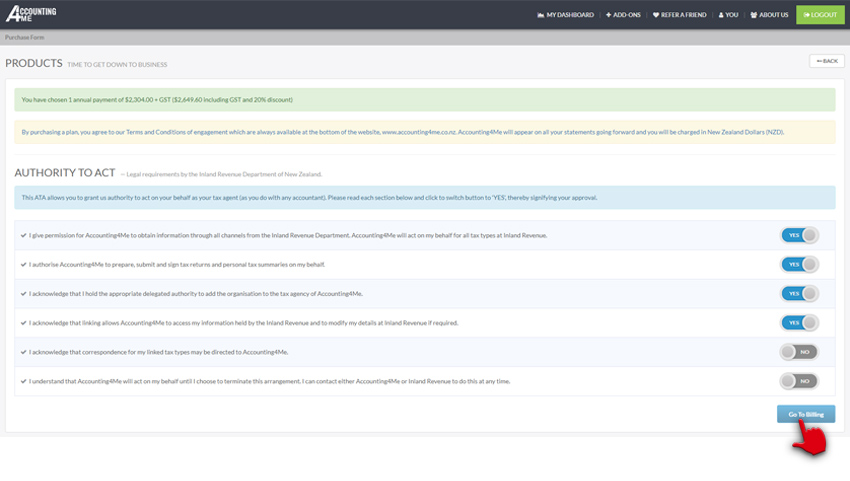 *Like any other business transaction, Agreement To Authority is binding and a legal necessity.
---
My Profile (YOU)
Your dashboard contains your editable details meant only for you. Here is where you ensure your Photo ID such as NZ Driver's Licence, NZ Passport, etc. are uploaded. This ID is important and required by law as proof of who you are.
---
Making Your Payment
Enter your details along with your Card Verification Code (CVC). On most cards like Visa, MasterCard, Bank Cards, etc. it is the final 3-digits of the number printed on the signature strip on the back of your card; on American Express cards, it is usually a 4-digit code on the front.
These numbers are always printed in black, and not embossed.
Despite this being the technological age, quite a few Kiwis are hesitant to adopt online accounting. Why? Mainly security concerns! We can disprove this because our cloud accounting software offers a level of security that is at par with online banking - which you are familiar and confident with. We follow Privacy Policy matter strictly, ensuring you complete confidentiality where applicable. More and more business owners around the world are comfortable with cloud accounting in managing their business finances. If you haven't yet tried it yet, it's time to take the next step in receiving secure, inexpensive, remote access to your account.
Hiring Accounting4Me can greatly boost your company's growth as it provides relief with a sense of comfort and calm; allowing you to focus on other areas of your business, thereby expanding your work.
Register with us so we can understand your business profile, and we can talk business then.
---
Relevant Information & Infographics:

"We got great suggestions on how to get the most from our tax savings. I'm glad we made the decision to go with Accounting4Me."

Hannah
Contact Details
ADDRESS
Accounting4Me, Parnell,
Auckland, New Zealand
EMAIL



I am new and glad I picked Accounting4Me as my accountants and in handling my taxes. I have never had any bad experiences so far.

Maia Koa


I highly recommend the team and shall certainly be engaging with them again in the future.

MATT MAKAIA
CONTACT US:
ADDRESS
Accounting4Me, Parnell,
Auckland, New Zealand
EMAIL